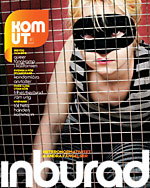 Nyligen (eller ja, i början av april) kom äntligen tidningen Kom ut ut i ny form och med nya chefredaktörer efter en nästan plågsamt lång tids väntan.
Tidningen ges ut av RFSL men är redaktionellt obunden och skriver om hbtq-frågor. Det första numret i ny tappning har temat "fångenskap".
Eftersom samkönade par äntligen får gifta sig, efter en pinsamt lång tids väntan, handlar en artikel på alternativ till äktenskap. Där bidrar jag med den illustration av polyamorösa förhållanden som visas nedan.
Som läsare av denna blogg klarar du säkert av att se hur den är serierelaterad…
My drawing below was recently published in the Swedish LGBTQ magazine "Kom ut" to illustrate a polyamorous relationship. The illustration was used in an article on alternatives to marriage now that Sweden has finally legalized gay marriage.

The relevance to comics should be obvious…