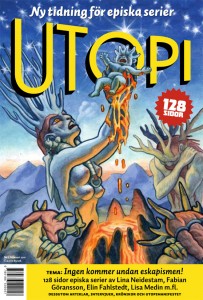 Idag ramlade det efterlängtade första numret av serietidningen Utopi ner i brevlådan. Jag har inte hunnit läsa så mycket, men det ser lovande ut! Kolik förlag har gjort ett ypperligt jobb.
Det är kul med en svensk serietidning som fokuserar på fantastik och episka serier.
Jag tycker visserligen att en av de viktigaste saker som hände i seriesverige under 1990-talet var att självbiografi och vardagsrealism banade väg för realism som en legitim genre  – ungefär som det har varit i över hundra år inom ografisk litteratur. Men nu har vi nog kommit så långt så att det går bra att återvända till fantastiken.
The first issue of the Swedish comic book Utopia was released recently. It's great with a new publication that goes beyond the realism that has become dominant in Swedish art comics.